Agricultor inglês constrói "casa verde" por 150 libras / + de 150€ / 500 reais - e esta, sim, uma verdadeira casa Hobbit!
Casa pronta por 500 reais
Acredite: inglês faz construção completa com materiais descartados e 150 libras. Entenda como é possível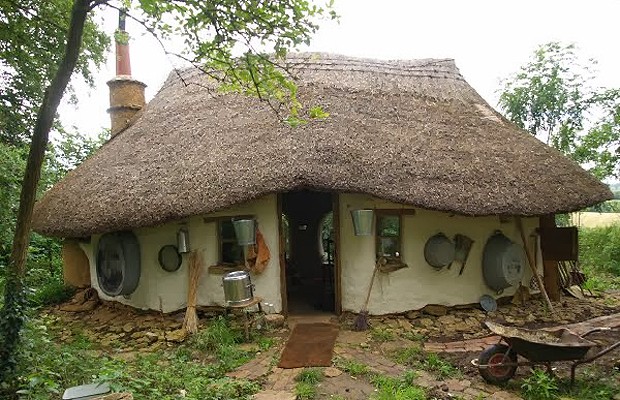 Para a maior parte das pessoas, o desejo de construir uma casa parece distante devido aos preços altíssimos de terreno, mão de obra e materiais. Mas o fazendeiro inglês
Michael Buck
provou ser possível tornar este sonho realidade, usando métodos e recursos pouco convencionais. Ele ergueu a moradia em sua propriedade com apenas
150 libras
, o equivalente a pouco mais de 500 reais, sem a ajuda de mais ninguém. Para
economizar
, foram usados recursos descartados por outras pessoas ou simplesmente tirados da natureza. As paredes, por exemplo, são feitas de uma mistura de areia, argila, palha, água e terra. Foram oito meses de obra, sem nenhuma ferramenta – Buck fez tudo com as próprias mãos.
saiba mais
Com um orçamento tão apertado, o resultado é um pouco
rústico
. O teto é feito de palha, o piso de madeira foi resgatado de uma casa em demolição e os vidros das janelas vieram de um caminhão abandonado. Não há eletricidade, gás ou água encanada. Também não há sistema de aquecimento, o que poderia ser um problema no inverno europeu. Mas, segundo Buck, as grossas paredes impedem o frio de entrar e o teto é forrado por peles de carneiro. O fogão é a lenha e a luz vem somente de velas e lamparinas. São 28 m², com espaço para apenas um morador. Pode parecer arcaico demais para algumas pessoas, mas pensando no preço total, pode até valer a pena abrir mão de alguns confortos em nome da casa própria.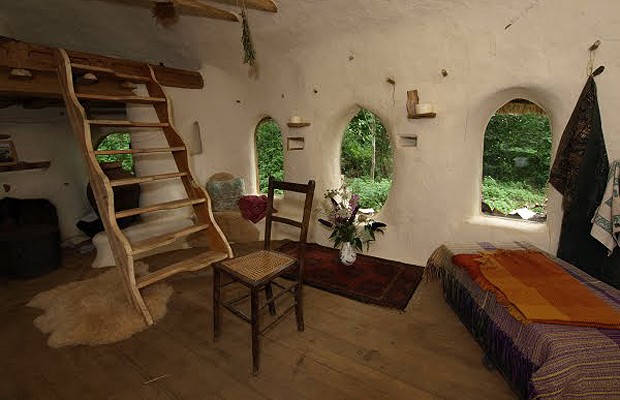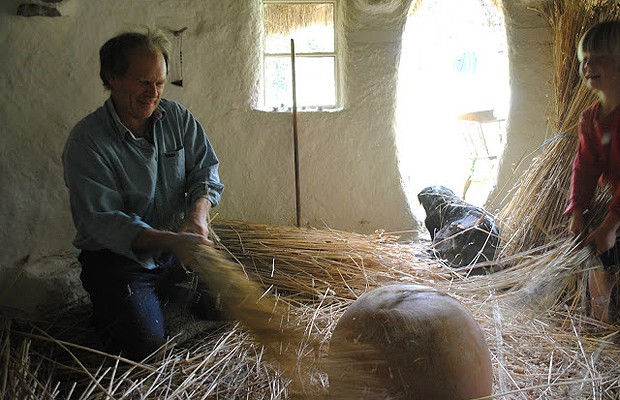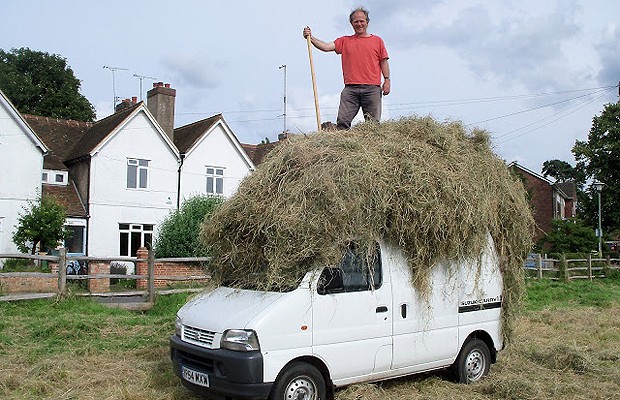 How to build a Hobbit house: A step-by-step guide to the £150 cottage built only from natural and reclaimed materials
Ever wondered how to build a fully functioning cottage for £150?
By Steve Bird
|
This week, the Mail reported how smallholder Michael Buck built a cottage on his land in Oxfordshire for just £150 using only local, natural and reclaimed materials. Mr Buck, a 59-year-old former art teacher, didn't use any power tools to build the 300 sq ft house, which has no mains electricity, gas or water.
'A house does not have to cost the Earth — you only need earth to build it,' he explained.
STEVE BIRD explains how he did it . . .
Michael Buck outside the cob house which he built for £150
Walls
Michael Buck and his friends first mashed up or 'poddled' a wet mud and straw mixture — known as cob — stamping barefoot on it on a large sheet made from the skin of an old trampoline found in a skip.
'Poddling with the feet is very important,' he says. 'Being barefoot is far more efficient than wearing boots to mix it. It used to be done by cattle. It's a wonderful sensation as it squidges between your toes.'
The walls of the cottage are made from a mashed-up wet mud and straw mixture
The straw mixed into the cob came from a nearby horse yard and cost £150 — the only money spent on the building project.
The water added to the cob mixture came from a well Mr Buck had dug, and the sand and clay came from the soil dug out for the foundations.
The cob was then shaped into bricks and left to dry before being used to build the walls.
The walls rose 4in each day of building. Mr Buck then used a large knife to smooth them into shape. The whole process took four months.
Ceiling
The ceiling inside is made from wattle and daub — a framework of woven sticks and mud-based plaster — and insulated with sheep's wool donated by a local farmer.
Roof
Timber for the roof was taken from poplar trees in a nearby wood.
The roof structure runs through the top of the walls and up to a crest. Mr Buck taught himself to thatch, using long straw wheat grown by a local thatcher and reed found at Duke's Cut, a waterway that connects the Oxford Canal with the River Thames.
He carried it to the house in 10ft bundles to avoid a carbon footprint. The thatch is held in place by intertwined sticks of local hazel.
Mattress
Sheep's wool stuffed into a duvet was used to make a mattress for the bed on the wooden mezzanine.
Flooring
The floorboards are made from reclaimed wood salvaged after the local Woolworths store in Oxford city centre closed down.
The floorboards in the Hobbit house are made from reclaimed wood
Lighting
Alcoves were moulded into the interior walls so candles could be used to light the building.
Cob houses are almost fireproof because so little wood is used. The density of the walls, usually around 2ft thick, ensures the house is well insulated.
Chimney
This was made of cob bricks and topped with broken tiles found around the site to prevent rain coming down it.
The chimney was topped with broken tiles found around the site
The house itself is heated with a wood-burning stove.
Bathtub and sink
Hanging outside is a large, metal bowl that can be filled with water from an ancient nearby spring. The bowl serves as a sink, bath tub and washbasin.
Windows
A lorry windscreen found in a rubbish tip was fitted as one window.
The windows in the house are made from items including a lorry windscreen
Three discarded wooden windows from the same tip were turned upside down so the rotten lower sills became the top sills.
The glass and frames were fitted into the walls and gothic-style windows set in the cob mix.
Foundations
The site had to be on ground with the ideal soil to form the basis of the mixture used in the ancient 'cob' building style — where bricks are made from a combination of earth, sand, clay, straw and water.
The technique is believed to date back to prehistoric times and is still common in the Middle East and Africa.
A delivery of straw which helped to make the mixture to create the cob house
Too much clay in the soil and the cob bricks will become brittle and fracture; too little and they will crumble. Luckily, the soil in Mr Buck's smallholding contains the perfect amount of clay.
He dug the foundations a foot deep to get to the 'subsoil', which he set aside to make the cob mixture. Then he created foundations from large stones taken from a neighbour's dilapidated wall, adding some of the cob mixture as a form of cement.
This image shows how Michael Buck used the cob technique to create a window at the unique Hobbit cottage
Plaster
The outer layer of the wall was plastered with a smoother type of cob mixture. It included crushed-up bullrush heads from a local stream and cow dung from a nearby dairy to add some texture to the mixture.
The names of the three cows — Marigold, Crystal and Mist — which contributed are inscribed on the wall of the cottage.
Paint
The walls inside and out were finished with 'Ali', a cross between plaster and paint which is made from plant resin, clay and chalk, which Mr Buck collected from the Chiltern Hills, and flour that he ground himself on his farm.
Kitchen
The marble kitchen worktop and the woodburning stove were donated by Mr Buck's sister during the renovation of her Dorset home.
Some poplar branches are built into the walls of the kitchen, from which pots and pans can be hung.
Outside loo
The lavatory is a 'composting toilet' that uses sawdust and moss to conceal and break down waste.
It's also a loo with a view — of the beautiful, rolling Oxfordshire countryside.
Michael Buck and the cob house he has built for just £150 without using any power tools